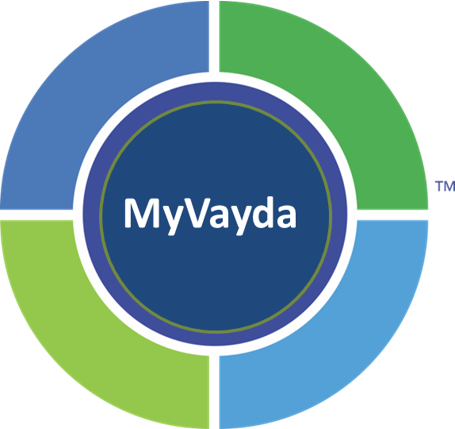 An Identity Risk & Cost Insights Platform
MyVayda's RADIATE™ Engine analyzes attack paths that can be exploited by the risk associated with an enterprise's system, thing, application or a persona identities.
MyVayda's RADIATE™ engine creates predictive risk maps leveraging data pulled or pushed into MyVayda™ by overlaying on top of enterprise technologies. The generated risk maps can augment an enterprise's SIEM function and reduce effort while enabling security teams to accelerate response time to potential attacks.
A Single Source View: Presenting Compound Risk Insights, across Identities & Technology Personas with our proprietary Identity Behavior and Pattern Analysis(IBPA™) Engine
MyVayda™  is created with the Business Executive and Board Member in mind, as a Business Focused AI Platform, providing a business's current state Technology SWOT. It brings, near real time updates on the Technology landscape, focusing on Identity Patterns, providing a consolidated view of risks across silos. Executives and Leaders are provided with actionable insights, as are Asset Owners & Administrators.
"80% of hacks involve the use of compromised privileged credentials"
– Forrester
Identities, be they person or non-person (machines, devices, service principals etc.) are monitored and profiled by MyVayda™  to report on multi-dimensional risks across the enterprise.
Machine Learning and AI generated insights are aimed at providing compound risk analysis associated with identities, across all Silos. 
"Threat actors are more interested in taking advantage of bad consumer behaviors to attack businesses leveraging stolen identities. Due to the shift in tactics, ransomware and phishing attacks directed at organizations are now the preferred data theft method by cyberthieves."
– 2020 IDtheft Center Annual Breach Report
Provides a single view where Executives can understand their overall identity and systems related risk exposure across ALL silos, get an understanding of compound risk impact and cost
Security functions to identify negligent user behavior and alert on attempts made for data exfiltration
Business functions to make informed risk-driven decisions and perform access certifications
Audit & Compliance functions to perform continuous controls related validations
An Intelligent Identity Risk Focused Platform

Risk Meter
Generates an estimated value at risk for business applications

Identity & Access Insights
Provides the ability to uncover access risks and detect excessive permissions

Audit Insights
Provides the ability to detect SOD conflicts and enhance monitoring controls

Security Analytics
Provide the ability to accelerate the response time taken to perform analysis

Privacy & Regulatory
Purpose-built to target compliance requirements and streamline reporting needs for assessors

TCO
Aggregate quantified risk metrics and allocate cost streams across controls to precisely calculate TCO for technology and controls
Use Case – Identify & Monitor Usage